FeelWell Compression garments are custom-made for a perfect fit
Most compression garments on the market today come in a pre-determined set of sizes. For the most part, they are made for people less than a size Large and with a traditional body style.
Those with non-traditional body types are left either uncomfortable or getting too much or too little compression in the areas they need it. This reduces their mobility and negates the health and lifestyle benefits of compression wear.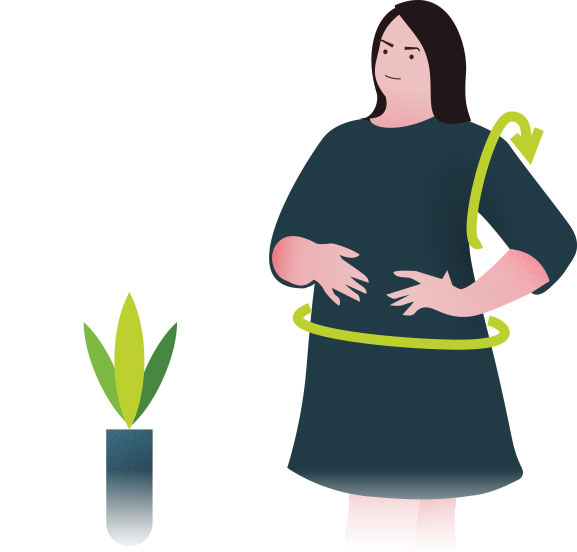 Get a Comfortable Garment Made Just for You
FeelWell garments are custom-made for each individual. Our fitting specialists take up to 21 precise measurements to guarantee the garment is comfortable and provides just enough compression in all the right places.
Your body is unique, and it can't be neatly placed into one category on a sizing chart. Plus, different manufacturers use different charts, making it nearly impossible to find a good ready-made fit.
Take the guesswork out of sizing
FeelWell's compression garments are made one-of-a-kind for your unique size and body shape. This way, we can guarantee a perfect fit and maximize the benefits of compression for our customers.
Our specialists take up to 21 precise measurements in under 20 minutes.
We offer a 100% fit guarantee. If the garment doesn't fit perfectly, we'll make you a new one.
Fewer than 3% of our customers return their garment for any reason including improper fit, manufacturing issue, or dramatic change in size between fitting and receipt of the garment.
Designed for different needs.
Our catalog includes compression garments for
Customized for Your Needs
Each of our customers has unique needs, and we offer a number of customizable features to meet them.

Abdominal support belt
Used to increase abdominal support. Recommended for patients with lower back pain.

Hook and Eye Closure
Allows patients to maintain compression levels while they lose weight.

Zipper
Garments can be designed with or without zippers. .

Crotch opening
Add an opening to make accessing the crotch area easier.

Crafted to last
Our fabrics are breathable and moisture-wicking while offering optimal compression.
Why Wear a Compression Garment?
Compression garments help those struggling with weight loss and recovering from surgery improve their daily lives. Compression garments can:
Our customers enjoy higher self-esteem, superior mobility, and reduced fatigue helping them become more active and make more progress along their weight loss journey. Compression garments have been medically proven to provide numerous health and wellness benefits to the wearer.